This post contains affiliate links, which means that if you click on them and make a purchase, I will receive a small commission at no cost to yourself. These commissions help me with the running costs of my website.
Women's rugby is showing an incredible surge in popularity. In the last few years especially, the female side of the sport has really taken off, and women around the country are putting their boots on for the first time.
I started playing rugby in May 2017, as a complete beginner. It took me a while to build up the courage to actually go for it, but once I did, I never looked back. 
Rugby has given me the challenge I never realised I needed, and a lot more besides. In this guide, I'm going to introduce some of the key things that you'll find useful as a newcomer to women's rugby, and hope that you'll feel encouraged to give it a go.
This is a guide for those who are completely new to women's rugby, and is intended as a helpful list of things I've learned along the way – I am by no means a professional and don't know the rules inside and out! 
In this first post, I'm going to put together a list of basic equipment and kit that you might find useful when starting out in the world of women's rugby.
Before I jump into all the details, I'd really love it if you'd watch this video that gives a bit of background information and context into the rise of women's rugby, and what's driving it's growth.
Women's rugby is incredibly popular in all areas of the UK, but especially here in the North East. This is why:
Ready to get started? 
Of course you are! Ok, let's dive in. First thing's first, you're going to need a few essentials to get yourself ready to play. What do you even wear to train in?
Training kit
Boots
Gumshield
Base Layers (for when it gets cold)
Training Kit
You'll need something comfortable and practical to run about in. These don't have to be anything expensive or fancy, but they do need to be fairly sensible. Rugby is an outdoor sport, played primarily in the winter months (more on that later), so you'll need clothes to train in that will keep you warm and that you don't mind getting a bit muddy.
You'll also absolutely, 100% need a good sports bra to play women's rugby. I don't think I even need to elaborate on why, but trust me, it's worth spending a little bit more to actually get a good one.
I like to train in leggings when it's colder because loose-fit tracksuit bottoms feel really heavy when they're wet or muddy, but with good quality leggings you don't really feel anything. Just my personal preference, so go with whatever you like best!
Tops can be any kind; I'd recommend long sleeved tops, t-shirts and non-hooded jumpers if you can get them, because hoods can get in the way when you're practising certain skills, but again, it's up to you entirely. Also, it's a good idea to get a waterproof training top for when the weather starts to turn.
Another thing to consider is the presence of zips and strings – these can get caught in people's hair or eyes, so it's best to avoid tops that have zips on where possible.
Here are some quick places to start if you're looking to stock up on training kit.
Quick start buys – sports bras for women's rugby:
Freya Full Coverage Sports Bra
Shock Absorber Ultimate Fly Sports Bra 
Syrokan High Impact Sports Bra
Quick start buys – training clothes for women's rugby:
Apollo Ladies Training Leggings – currently £17! And yes, I know you can go to Primark and stock up on cheaper ones too, but it's definitely worth buying a decent pair that will last you through the season.
Gilbert Vixen Leggings – Gilbert are one of the top brands in the world of rugby so many of their products are designed with women's rugby in mind.
Puma Women's Training Leggings – I actually have these ones myself and can genuinely recommend them as a staple for outdoor training, year round. They're really supportive and durable – I love mine (although I'm going to need a new pair since I've started to build muscle in my legs more!)
Optimum Warm-up Waterproof Training Top – having one of these is really useful for when it starts to get rainy and muddy towards the end of the year.
If you join a club team you'll probably have the option of buying one in your team's colours etc, but in the short term this one is a good choice while you're deciding if you like the game!
Tops and t-shirts are something you can pick up anywhere, in fact I wouldn't bother to buy new ones especially for rugby training – use your old ones instead!
Boots
One thing you really need to do a bit of research into is your choice of boots. There are different types of boots for different types of positions, but you don't need to worry about that too much just yet.
There are also two types of boots for the type of ground you'll be running around on; soft ground boots for the winter months and firm ground boots for the spring/summer months. It might sound like an extravagance but having the right kind of boots for the ground is actually really important.
In the spring and summer months the ground is much drier and harder, and so you really don't want to be running around on studded boots – you'll end up with blisters on your feet at least and possibly lower leg injuries at worst.
Firm ground boots have moulded, plastic studs which give you a bit of grip without causing too much impact. Astroturf trainers are a good idea for when it gets really hot.
In the winter, the ground is much softer and muddier. For that reason, you need much more grip under your foot, otherwise you could slide over on your ankle and hurt yourself much more easily. When the ground is soft, you need proper studded boots. 
You may have to look at football boots as well as rugby boots, just to get a good look at the range of options. Don't be afraid to browse the junior section either if, like me, you've got smaller feet! In fact, you can often pick up some real bargains by getting your boots in the kids' section.
Make sure you go and try on your boots before you buy as well, although that kind of goes without saying!
Quick start buys – boots:
I've only had personal experience of Adidas and Nike boots, but there are a wide range of brands you can choose from. These are some of my favourites, but again, be sure to go and try a few on for yourself before buying a pair.
As it's getting colder, let's look at soft ground boots, and I'll return to firm ground ones later on in the season.
Canterbury Phoenix Soft Ground Boots – Junior sizes of these boots will suit anyone with feet sized 4, 5 or 5 1/2. 
Adidas Incurza Soft Ground Boots – I really like Adidas boots but they do fit narrower feet slightly better. Be sure to go and try them on first in your nearest sports shop.
Puma evoPOWER Soft Ground Boots – A great choice for beginners as an entry level boot that won't cost the earth but will do the job you need. I'd say these were a great place to start as a newbie to women's rugby.
Wishlist Item – Under Armour Highlight SG Boots
These are on my wishlist, big time! One of my teammates has them as she also plays American Football and they look so supportive around the ankles. One day I'll treat myself to a pair. 
Gumshields
Another vital piece of equipment you'll eventually need if you're going to play women's rugby is a good quality gumshield.
Gumshields are non-negotiable if you value your teeth – the nature of contact rugby means you'll do some falling over, tackling of others and other contact-based activities. One piece of plastic can make a huge difference to your safety, so if you only get yourself one thing, make sure it's a gumshield.
Quick Start Buys – Gumshields
My absolute recommendation here is a SISU mouthguard. They're so thin but incredibly effective, and you don't gag on them the way that you often can with a gel-based gumshield.
They're a bit more expensive than the standard ones, but 100% worth it in my opinion. With one of these, you can drink, talk and most importantly, play the game without gagging. 
A slightly cheaper option is this Makura Ignis boil and bite style of gumshield, which are your basic gel-based options and may be a good starting point. Personally, I find the gel based ones really hard to tolerate, but you might prefer them, so don't be afraid to try them out. 
Base Layers
These really are what they say on the tin – items of thin, skintight clothing that effectively trap heat within their layers. You'll mainly need these for the winter months and they can be worn underneath playing shirts and shorts during actual games.
Quick start buys – base layers:
You can really use any kind of leggings, cycling shorts and tops as base layers but it's worth looking into ones designed with outdoor sports in mind for maximum effectiveness.
Additionally, don't worry about looking for base layers that are specifically for women's rugby. The men's stuff works just as well, and rightly or wrongly, there's often a lot more choice amongst the men's ranges.
---
So, are you going to give women's rugby a go?
Now that you've got some idea of the basic equipment you'll need, and remember you can get many of these items on your local high street, what are your thoughts on giving it a try?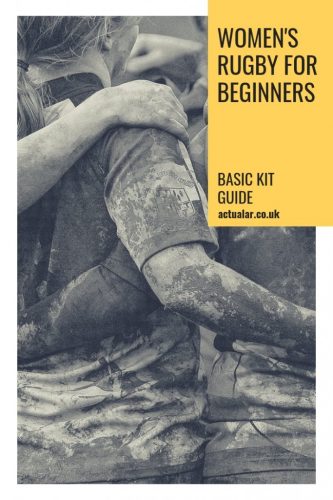 Next time I'm going to look at a beginner's guide to the actual game itself, and some useful terms you might make use of at training. 
I'd love to know your thoughts on women's rugby and whether not you think it's something you'd have a go at! Please do let me know in the comments.
You can also check out my Instagram for some action shots of me and my team if you'd like to see us in action.