July is upon us already. I can't believe how quickly the time is flashing by, but with six months of the year now behind us, there's no excuse for me to drift off track of my writing goals for 2018. It's so easy to become distracted by other things when your job is writing-based, so now that we're heading into the summer months, it's time to embark on a vocabulary challenge for writers.
One of the simplest ways I like to try and boost my writing flow when I'm going through a creative rut is with a vocabulary challenge. I absolutely love words, always have, but in recent years I've found that the standard of my vocabulary has definitely slipped. Perhaps it's because I haven't been writing as frequently as I used to, or because age has warped my brainpower somewhat, who knows?
Either way, I hate the feeling of having to search for a word that would once roll off the end of my tongue without a second's thought. Do you ever catch yourself struggling for the word you want? If so, you'll know the feeling I'm talking about here.
Anyway, to combat this, I like to set myself a task to boost my recall with a simple vocabulary challenge for writers. It's fairly simple really, but for this, you're going to need to grab your bullet journal or jotter, or just something that you can regularly add to.
I'd suggest a diary or little notebook of some kind that you can keep in your bag because the last thing you want to happen is that you start off doing this at full pelt and then put your book down somewhere and forget all about it. I'm speaking from experience on that one. Anyway, let's jump in and see how this vocabulary challenge for writers actually works.
How to start a summer vocabulary challenge
The challenge itself is really straightforward, to be honest. In the back page of your notebook, you need to write down any five (or more) words that excite you, every single day. Like, every day. You really do need to be consistent with doing this or you won't see the full benefit.
These words don't have to be hugely adventurous at first, but it helps if you try to extend the challenge a little bit each day if you can. Additionally, you can write more than five words at a time if you feel like it – and you don't have to be reaching for a thesaurus either; just write down whatever words come to mind first.
This might seem like a fairly simple challenge, but believe me, it gets harder (in a good way) as the days go by!
Progression through vocabulary
By the end of July, you should have a personalised vocabulary journal packed full of fascinating, compelling and downright exciting words that your brain has created for you each day. You'll probably surprise yourself with how many you can get in there over a 30-day period!
This task will help you to become a better writer too, as undoubtedly you'll be able to refer back to your new and shiny lexicon of vocabulary when writing your next page, chapter or blog post. Vocabulary choices matter, especially in the world of content creation. So this challenge can be helpful to all kinds of writers as a point of reference when it comes to boosting your SEO or improving your blog posts.
Yes I did just use the word lexicon and you can bet anything you like that it's going in my vocabulary journal later.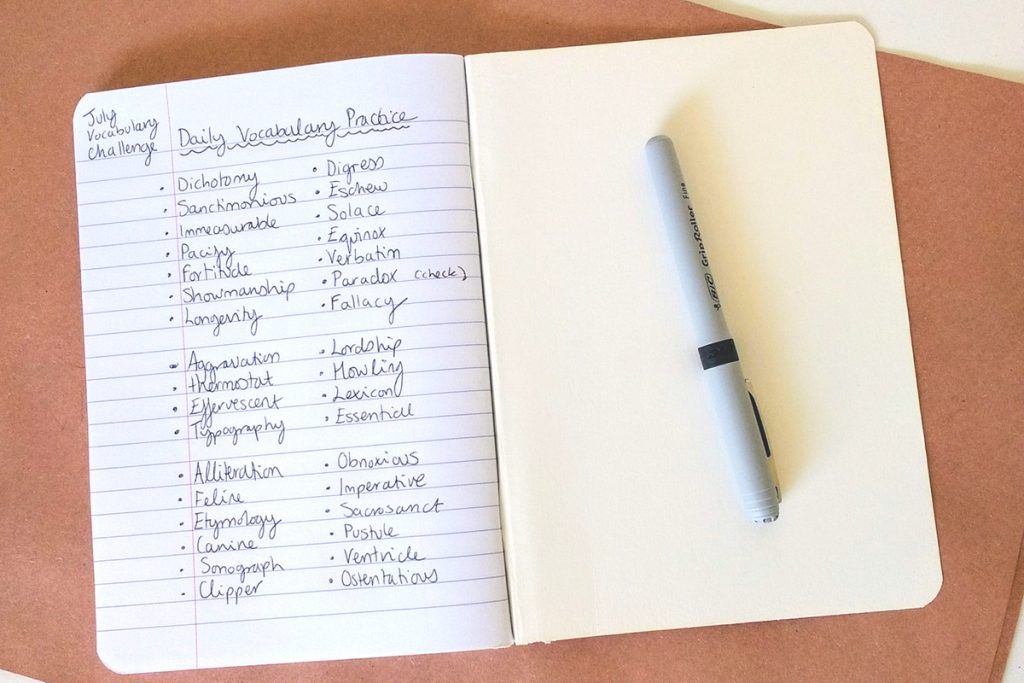 Why is vocabulary building important to bloggers and freelance writers?
Vocabulary building is a key skill that we should never stop working on. Having a greater range of word choices at our disposal is something that can elevate communication abilities in all forms. So for me, it's one of the most often overlooked areas of writing and also one of the easiest to improve upon.
Even if you're not a writer who's working on a novel, thesis or long-form piece, vocabulary building strategies like this are important. Good blog posts aren't solely down to the topic and content; the use of language is equally, if not more important when it comes to your posts actually being read, understood and enjoyed.
As the power behind all comprehension, vocabulary really matters. Especially in the field of freelance writing, where your strength of appeal needs to be in your ability to create clear, concise and engaging copy for a range of different audiences. So, while this may not seem like much of key task, to begin with, I believe you'll notice a tangible difference in your writing style 30 days from now.
Are you up for a summer vocabulary challenge?
So, fellow writers, what do you think? Are you up to the challenge? Let me know your thoughts in the comments below! Have you ever taken part in any vocabulary building exercises before? If you have any tips and tricks then feel free to share them with us here.
Also, if you know anyone who would find taking part in the vocabulary challenge useful then please share this post with them. Let's see how far we can expand our linguistic skills throughout the month of July!
As always, you can catch up with me over on Twitter or Instagram. Plus, if you're looking for some further inspiration about vocabulary building or other lexical tips, why not check out my Pinterest board dedicated to all things writing!