Walt Disney World. It's that place you dream of seeing for real when you're little, and the one you decide that you'll probably never get to as you grow older. I always imagined it'd be something I'd probably always have on my travel wishlist, but never find the time or money to actually get there for real.
I was wrong.
At the back end of March, I decided to take a really impulsive step and book a holiday of a lifetime to Florida. More specifically, a last minute Disney holiday to Florida. Now, I'd never been to America. To be honest, I've barely been to a theme park in the UK before, but for whatever reason, I decided to just go for it. So I pushed the 'sod it' button and booked a 14 night trip to Walt Disney World Orlando.
Actual Disney World?
I know, told you it was impulsive. Most of you will probably think this was rash for someone at the thinner edge of the pay wedge, and you'd be right. However, because I chose to do this so last minute, I actually ended up with an absolute bargain of a holiday deal. One thing I've learned about planning a Disney holiday is that you should either do it way, way in advance or totally at the last minute, in order to get a great price. The look on the travel agent's face when I said 'this April' was classic; even more so when she saw the bargain amount I'd found the holiday for.
And so, with less than 40 days notice, I was Disney bound! With my spur of the moment choice made and little pot of savings battered, I now had the job of keeping it a secret from Small-Me so I could surprise her with the news just before we left. Two days before we were due to fly, I did a treasure hunt around the house for her with little clues. One of the clues sent her round to my friends' house for an Alice In Wonderland tea party! Afterwards, she followed the final clue back home to find a parcel from Minnie Mouse waiting for her at our front door, with a letter inviting her to Disney World and two tickets I'd printed out on the computer a few days earlier.
She was so shocked, I cried. Whatever adventures we had ahead of us in America, it was worth it all for that look on her face alone.
So what happened next?
I'm going to write a few different posts about the various aspects of our trip to Walt Disney World, because it's so vast it's just not the kind of experience you can summarise in one go. What I will say in this post is that our holiday to Florida has really made me realise how much of the world I'm just not seeing.
The differences I noticed just by breaking out of my bubble for a couple of weeks have been incredible. As someone who has experienced a fair bit of anxiety over the last few years, I was concerned that such a last minute Disney trip, travelling halfway across the world to visit parks full (and I mean full) of tourists was going to have a negative impact on me. In reality, nothing could have been further from the truth.
Maybe it was the combination of sunshine and a sense of freedom, but none of the things bothered me in the slightest. I felt like, for the first time in a long time, I was actually living my life again. That sounds twee, I know, but I genuinely feel like I experienced more human interaction in the last couple of weeks over in America than I have in years here in my home town. I'm actually glad I did the whole thing so last minute, because I feel as though if the trip had been pre-planned a long time ago, I may not have appreciated the experience in it's full, most spontaneous form.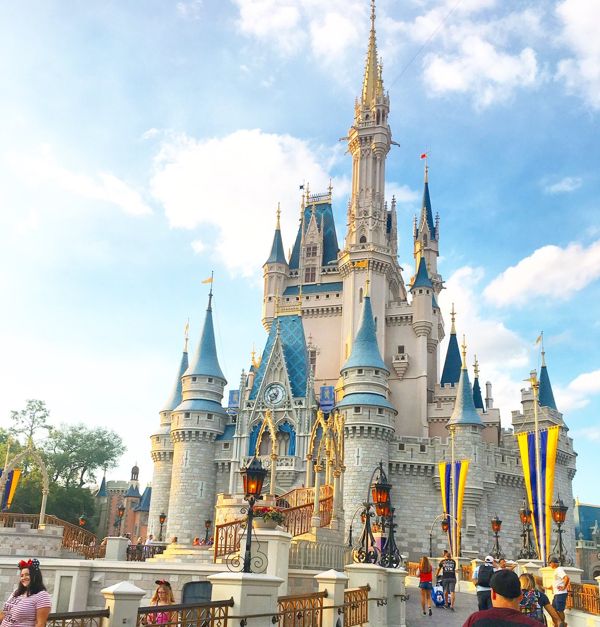 I'm no Disney fanatic (well, I wasn't), but it's impossible not to be affected by the overarching sense of happiness and positivity that powers every fibre of Disney World's being. And to be honest, that sense of happiness isn't limited just to the Disney parks. I found in general, the people I encountered in Florida were just, almost genuinely happy to see other people. They were polite, engaging, keen to interact with us. They spoke to me as if they were actually interested in what I had to say. This astounded me.
At customs, for example, when the border security officer asked me what I did for a living, he was genuinely interested to hear about my artwork. At first, I thought he was taking the piss, to be honest. But actually, he was keen to know what kind of drawing I liked to do, how I got my name out there and whether or not I sent prints out in the mail or personally delivered them. I mean, you just would not get that level of genuine engagement in a first-meet conversation here, I don't think.
I'd have put this down to a one-off, if not for the multiple other similar encounters we had with perfect strangers during our time in Florida. One lady stopped us while we were walking around Disney Springs (a shopping and restaurant complex), asked how we were and if we needed any help finding anything. Then, for absolutely no reason whatsoever, she asked Small-Me if she'd like to have a couple of little toys to help her enjoy her day a bit more. She gave her a couple of little toy dolls to play with, said goodbye and wished us a good day.
FOR NO REASON. Mind blown.
Why aren't we like that?
The positivity was infectious, and for the first time in ages, I felt myself wandering around, not worried about who else was there, not internally cringing if someone I didn't know tried to talk to me, just totally content. That feeling is one I've missed, one I've not felt living here in at least the last ten or fifteen years. I'm not ashamed to say that I cried at the thought of coming home.
Don't get me wrong, I love the UK. I do. However, the almost unspoiled cheerfulness of the people I met in America has honestly made me look at our little island with sadness. How curt we are with each other, as a general rule. We're a sharp and witty people, but political, cultural, economic and social media warfare within our own culture has driven that sharpness to cut ourselves and those who we come into contact with.
I include myself in this assessment. Prior to this holiday, I was becoming cynical to the point of ugliness. Bitter, disenfranchised, carelessly stinging those around me with my words and sullenness. You only have to look to Twitter to see the damning indictment of the times we're living through here in the U.K – it's no wonder we're all so vile to each other when there's precious little peace to be found within our politics or media.
Anyway, without getting too deep and meaningful about it, my last minute trip to Florida has had a profound effect on me. Way more so than I ever expected. It's also left me with seriously itchy feet. But where to next?
Keep an eye out for my next post about Walt Disney World, where I'll do a bit more of a review of the parks for anyone who's thinking about going and wants a no-frills, easy to follow guide for how to make the most out of a last minute holiday to the most magical place on earth.